Justin King @ The Antimedia http://theantimedia.org
December 15, 2014
(TheAntiMedia) Tyler Paxson, 19, was savagely beaten by Lima (Ohio) Police who were responding to a call about a house party. According to Tyler, he was heading to a friend's house next door to the party when he was stopped by the cops. He invoked his rights and said he didn't have anything to say to the officer and began to leave.
Tyler says that's when things went bad: he was grabbed by the arm, slammed against the wall, and was punched, kicked, and beat with batons by several officers. Sadly, cops brutally beating a 19-year-old kid is nothing new. What makes this case unusual is that witnesses are prepared to testify that the beating continued after Tyler was in handcuffs. Another extremely bizarre twist is Lima PD's apparent witness intimidation in the form of sending or allowing one of the officers who beat Tyler to go to the homes of witnesses and tell them that they had to relay their story to him.
"Not even a week after, [Officer Aaron Montgomery] who beat me in the face was on duty going to witnesses' houses and threatening to take them to jail if they didn't tell him their story."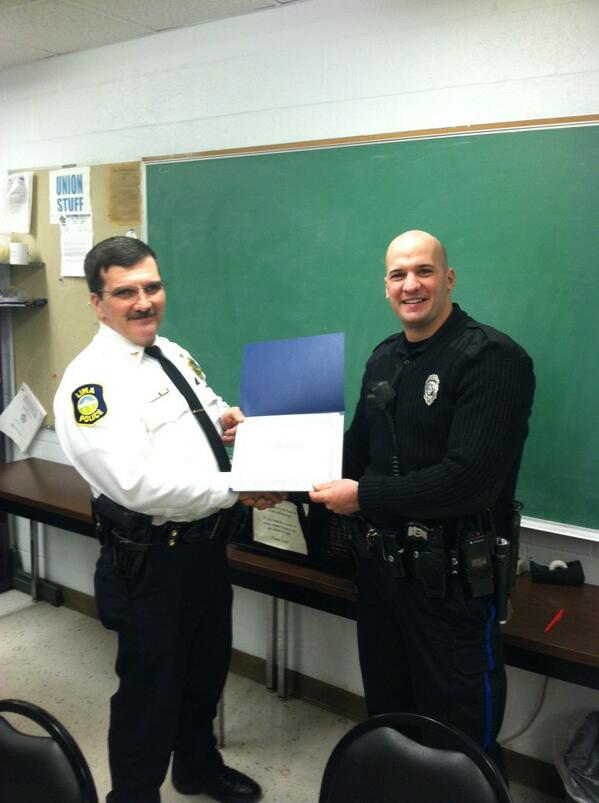 Officer Aaron Montgomery was selected by his peers as the 2nd Shift outstanding employee of the year.
If you witnessed an officer beat a handcuffed 19-year-old kid so badly he wound up unconscious in the hospital, how would you feel if that officer showed up and demanded you give him a statement and threatened you with jail if you didn't? It is blatant witness intimidation. Any officer involved in this incident should be nowhere near a witness. The more important question is: what exactly is he supposed to be investigating? The allegations against himself? Tyler's alleged underage drinking? The message sent by an action like this is simple: Keep your mouth shut, or you're next.
Tyler's eye after meeting the long arm and baton of the law.
When I asked Tyler why he thought a cop would do something that blatantly improper, he looked at me as if I was stupid because the answer is painfully obvious:


Tyler's perforated eye after meeting the long arm and baton of the law.
"He's trying to get himself out of trouble. He's the guy that did the most damage to my eye. Another officer held my hands while he beat me."
Before losing consciousness, Tyler remembers one of the officers remarking something about the cost of his pickup truck.
"[The officer] said something like 'this dude has a $40,000 truck' while I was getting beat. He was jealous, I guess."
For those that would defend this by saying something about maybe they don't have the manning or it was a simple oversight: one of the witnesses has apparently been pulled over five times in the course of one week and had her vehicle searched. Not one of the searches has uncovered any illegal substance or evidence of a crime. Tyler himself has been pulled over three times since his beating.
This elevates the case to the level of a civil rights violation that probably requires a federal probe. Lima PD seems to be staying quiet on the manner. When Tyler remained quiet, he was beat until he wound up in the hospital.
Though The Anti-Media was not able to contact all of the witnesses prior to deadline, there are apparently 12 witnesses who are ready to testify that not only did the beating continue after Tyler was cuffed, but that officers stepped on his throat and kicked him in the face. While we were unable to talk to all of the witnesses simply due to time constraints, every witness we did speak to confirmed Tyler's story.
Much like other beatings in the past that got out of control, at no point did any of the officers use any of the equipment they typically would if they were actually attempting to subdue a suspect. Tyler was never pepper sprayed or tazed. He was simply beat. He was beaten so badly that the blood stained the concrete outside of the home.
Tyler's refusal to provide his name and date of birth is illegal in Ohio. It's a fourth degree misdemeanor, which makes it slightly more serious that jaywalking. An example of a more serious third degree misdemeanor is drawing on a school bus seat.
Tyler answered the public intoxication charge by simply stating "I was not drunk." In Ohio it is not a crime to simply be drunk in public, the person must be "while intoxicated, engaging in conduct that risks harm to themselves, others, or other's property." It should be interesting to see the officers attempt to articulate the alleged risk at trial.
Tyler has retained a lawyer and civil rights organizations have become involved in the case. I asked Tyler what he hoped the outcome would be.
"The officers should be fired and held accountable for what they did. I'm having to go through all kinds of bullcrap for what they did. If anybody else went out and beat somebody up, they'd be sitting in jail right. I'd like for them to sit in jail for a little bit so they can see what it's like. I want justice. I need all the people that can to support me. It's going to take other people too. The system if flawed. This could be anybody's kid."

A rally in support of #OpJusticeForTyler. The Deputy in the car watched the protest, but never interfered in any way.
http://theantimedia.org/opjusticefortyler-tyler-speaks-out/
This article is free and open source. You have permission to republish this article under a Creative Commons license with attribution to the author and TheAntiMedia.org. Follow us on Facebook and Twitter to receive our latest articles.